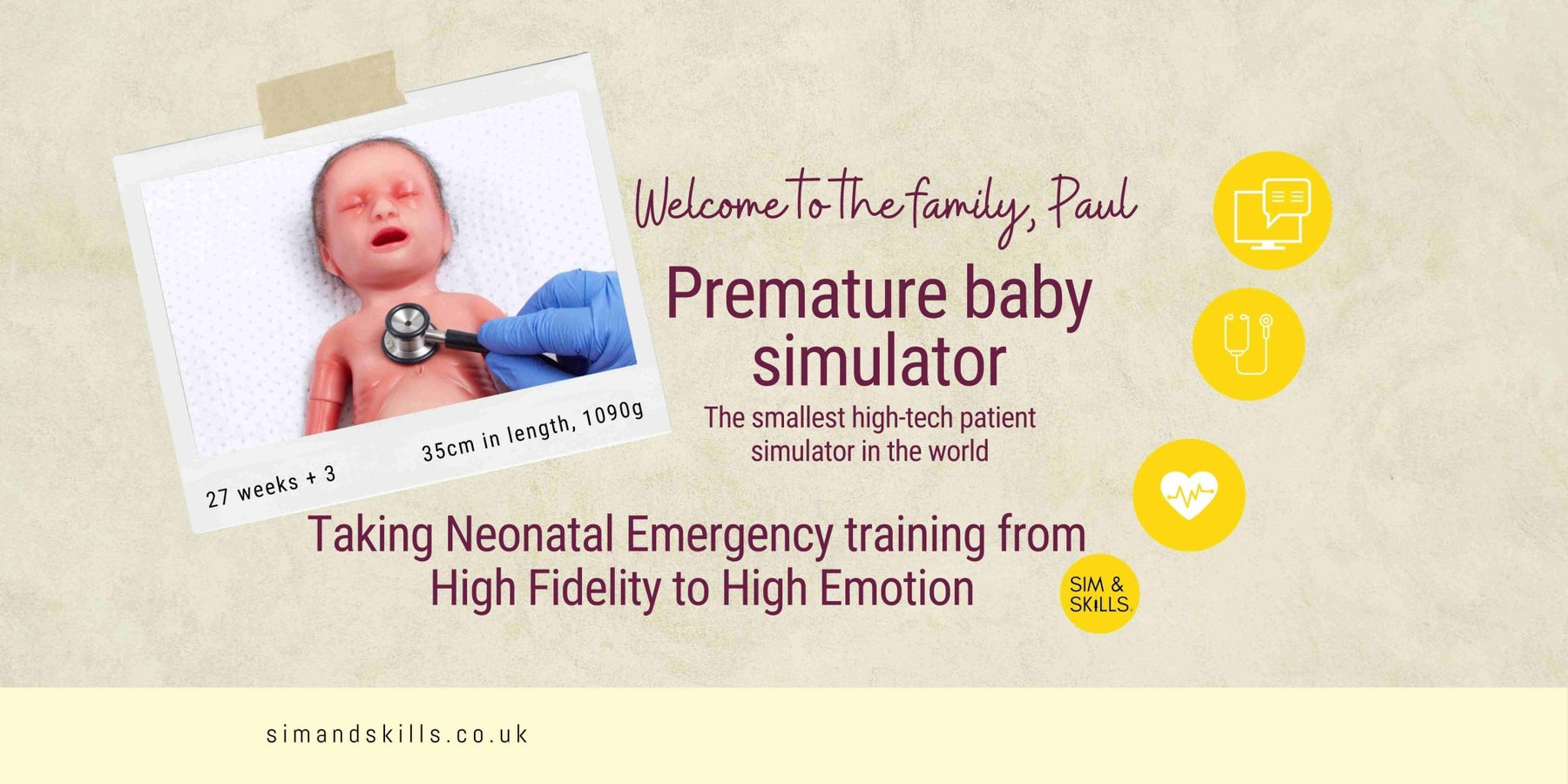 Taking Neonatal Emergency Training from High Fidelity to High Emotion
Family announcement:
We are very proud to announce the birth of the latest member of the Sim & Skills' family.
Say hello to Paul- the smallest, high-tech patient simulator in the world.
Designed to support Neonatal teams in delivering emergency care for premature babies. Paul offers high levels of realism and immersive learning scenarios to support safer pathways and better outcomes for premature babies.
How many babies are born premature?
Currently 1 in 13 babies[1] in the UK are born premature and receive some form of neonatal care from Special Care Baby Units (SCBU), Local Neonatal Units (LNU) and Neonatal Intensive Care Units (NICU).
The number of preterm births continues to rise.
A baby is considered to be premature if they are born before 37 weeks and require specialist care from neonatologists and neonatal nurses.
Why do babies need special care in a Neonatal Unit?
Babies can be admitted to a neonatal unit for a number of reasons.
It may be they were born before 37 weeks, or they have a very low birthweight. Babies can also be admitted if they have an infection, jaundice, had a difficult birth or they are recovering from complex surgery[2].
When you're born a little earlier than expected, you need lots of specialist support and care and so do your Mummies and Daddies.

 
How can Paul Premature Baby Simulator support Neonatal teams?
Paul has been developed by a team of Neonatologists and combines a highly realistic appearance with highly realistic internal anatomy. He has a body length of 35cm and weighs 1090g.
His inner and outer anatomy was developed based on MRI data from real premature babies of 27 weeks +3 pregnancy, creating a previously unseen level of realism for premature and low birth weight infants.
Paul features a unique, realistic airway that enables you to practice the skill of intubating a premature baby in the safety of the simulation suite environment.
The control laptop included with Paul allows you to manage his clinical state, which changes in response to the actions taken by your team. While the monitor displays Paul's vital signs, including heart rate, respiratory level, and oxygen saturation.
Paul is not just a high-fidelity simulator. He is a high-emotion simulator.
Simulation training with Paul not only allows you to practice and develop the skills needed to care for premature babies. Paul's realism also allows your team to develop the empathy skills needed to provide family-centred care.
With Paul, you can create highly realistic training scenarios that develop the communication skills and empathy needed to support the parents of premature babies. 
By creating the most immersive training experiences possible Paul can help to improve the outcomes of the patients who require the most special level of care- premature babies.
Experience Paul's realism for yourself by requesting a free demo.
[1] NICE guidelines Preterm labour and birth https://www.nice.org.uk/guidance/ng25
[2] NHS Special Care: ill or premature babies https://www.nhs.uk/pregnancy/labour-and-birth/after-the-birth/special-care-ill-or-premature-babies/