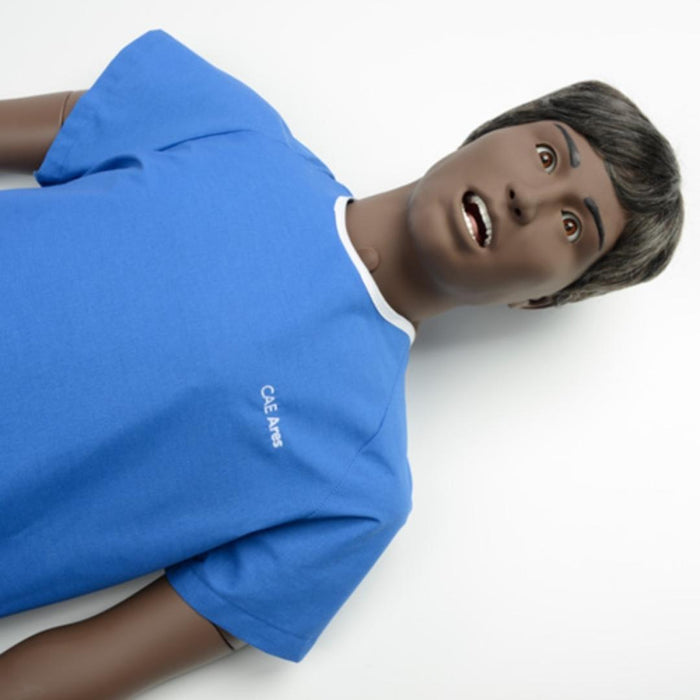 CAE Ares ALS Patient Simulator
CAE Ares - ALS Patient Simulator
Built to withstand the rigours of emergency care team training, CAE Ares has the streamlined simplicity of an emergency care manikin.
Mobile, Wireless, Lightweight and Durable
Available with CAE's unrivalled modelled patient physiology, to offer an entirely new training experience for prehospital and emergency care providers.


Learners can't fail to be engaged with CAE's unique SymEyes technology. Compact OLED displays enable you to simulate conditions such as jaundice, haemorrhage, dilated and constricted pupils, cataracts, and bloodshot or droopy eyes.
The groundbreaking SymEyes technology, along with two-way communication, gives Ares the perfect blend of clinical training features, CAE Ares is durable and reliable through repeated simulations to fulfil requirements in advanced life support (ALS), advanced cardiac life support (ACLS), and other protocols in emergency patient management.
Ask us about AresAR
Elevate training with AresAR Add the Microsoft HoloLens 2 module and CAE Ares becomes AresAR, a pre-briefing tool that offers immersive experiences through holographic representations of anatomy.
AresAR provides mixed-reality training in six of the most frequently encountered emergency scenarios - Sepsis, Ischemic CVA, Myocardial Infarction, Pulmonary Embolism, Tension Pneumothorax, and Closed Head Injury
Key Features of CAE Ares:
Neuro
SymEyes OLED technology to simulate various conditions

Articulation
Articulation of hips, knees, ankles, and shoulders
Cervical motion for the practice of patient stabilisation
Airway
Bag-valve-mask (BVM) ventilation
Orotracheal and nasotracheal intubation
Placement of various airway adjuncts
Retrograde and Fiberoptic intubation
Transtracheal jet ventilation
Needle and surgical cricothyrotomy
Tracheostomy
Detection of right-mainstem intubation
Stomach distention with oesophagal intubation
Laryngospasm (manual)
Breathing
Spontaneous breathing
Bilateral and unilateral chest rise and fall
Lung auscultation sites on anterior chest
Upper airway sounds
Bilateral needle decompression
Cardiac
4-lead ECG monitoring with real equipment
12-lead dynamic ECG display
SymDefib: Defibrillation, cardioversion and pacing using live equipment via an external defib box (choose the GOLD package for this option)
Urinary
Urinary catheterisation without fluids
Interchangeable genitalia
IM Medication Administration
Four intramuscular injection sites
Circulation
Unilateral blood pressure measurement by auscultation and palpation
Bilateral carotid and femoral pulses
Unilateral radial and brachial pulses
Variable pulse strength
CPR
CPR Feedback: Software metrics detect hand placement, rate and depth of compressions, recoil, ventilations and ventilation: compression ratio
Compliant with 2015 AHA guidelines and ERC guidelines
CPR compressions generate a palpable pulse, blood pressure, waveform and ECG artifacts
Realistic chest compression depth and resistance
Vascular Access
Unilateral IV cannulation at antecubital and dorsum of hand
Blood draw with vacuum-sealed blood collection system
Unilateral (humeral) IO access
Ultrasound training module insertion for venous and arterial cannulation (optional)
Sounds
Auscultation of normal and abnormal heart, lung and bowel sounds with the StethoSym device
Pre-recorded speech and vocal sounds
Bidirectional audio communication between manikin and operator
Software
Intuitive simulation authoring and control
Customisable checklists
Detailed debriefing logs
Simulated patient monitor
Sim & Skills' custom packages are designed to give you everything you need to get started and succeed.
CAE Ares Model Comparison Chart:
| | | | |
| --- | --- | --- | --- |
|  Model | BASE | ADVANCED | COMPLETE |
| Instructor Tablet | ✅ | ✅ | ✅ |
| 12" Tablet Patient Monitor | ✅ | ✅ | ✅ |
| IV Arm | ✅ | ✅ | ✅ |
| NIBP Arm | ✅ | ✅ | ✅ |
| Gender Conversion Kit | ✅ | ✅ | ✅ |
| StethoSym | ✅ | ✅ | ✅ |
| SymDefib | ✅ | ✅ | ✅ |
| SymEyes | ❌ | ✅ | ✅ |
| Modelled Physiology | ❌ | ❌ | ✅ |
*Free delivery, installation and training available in GB Mainland only. For other areas additional charges apply, contact us for details.