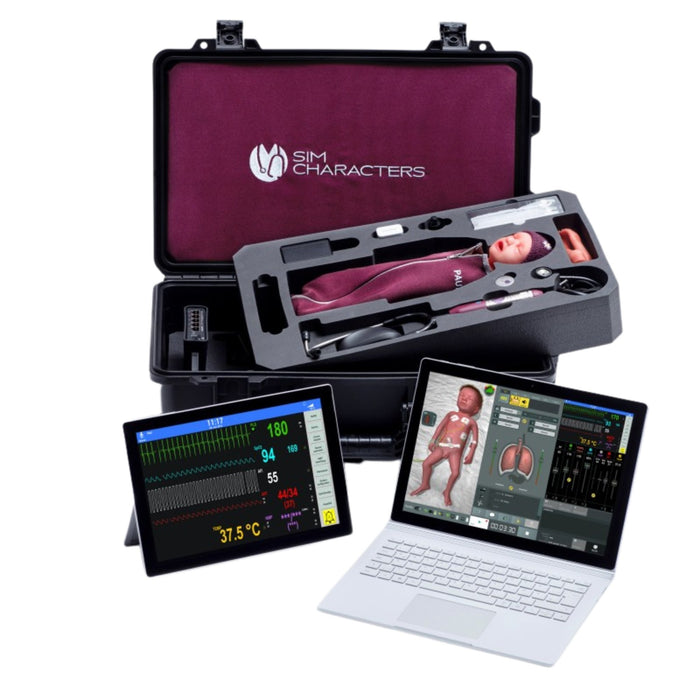 SIMCharacters Paul - Premature Baby Simulator
SIMCharacters Paul - High-Emotion Premature Baby Simulator
Premature baby simulator Paul is the smallest high-tech patient simulator in the world.
Designed by Neonatal specialists, Paul offers a previously unknown level of simulation training for Neonatal Intensive Care Units (NICU) and Local Neonatal Units (LNU).
Paul combines a highly realistic external appearance with highly realistic internal anatomy, with a body length of 35cm and a weight of 1090g.
Its outer and inner anatomy was reproduced in detail on the basis of MRI data from real premature babies of the 27 weeks + 3 of pregnancy, creating a never before seen level of realism for premature and low birth weight infants.

High fidelity was yesterday, the future is high-emotion simulation!
Invaluable for simulation training in the care and handling techniques for infants requiring multiple medical interventions at the limits of viability. Therefore perfect for NICU, emergency medical response teams, flight medics, mock code scenarios, nursing schools, medical schools, hospitals, and family education.
Simple to use for simulation as it requires no specialised equipment. Resulting in a simulator that is compact and highly mobile and can be used to support the objectives of the Resuscitation Council UK Neonatal Life Support (NLS) course curriculum.