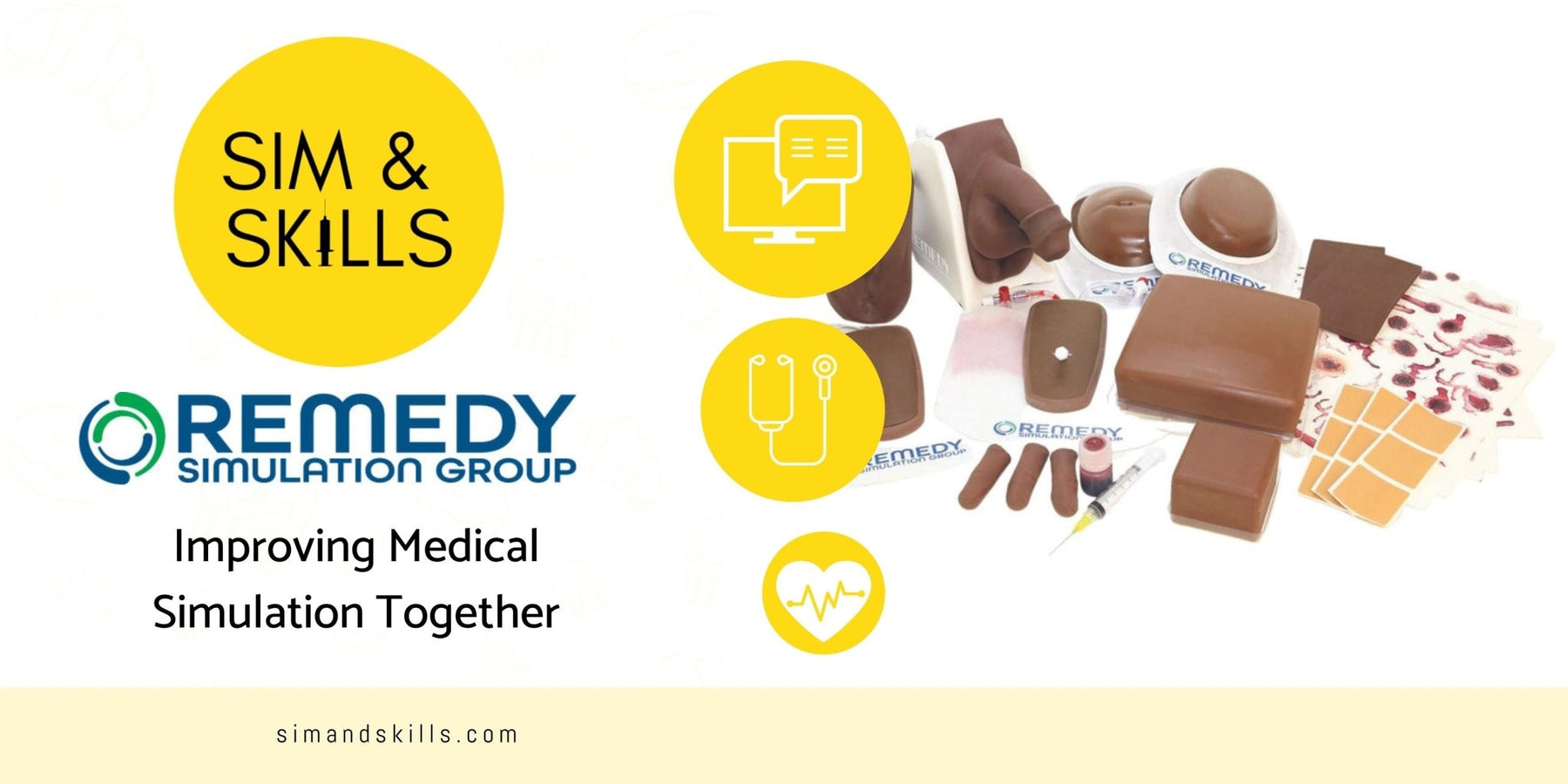 Remedy Simulation Group Products - Now in the UK & Europe
Sim & Skills is delighted to announce a new distibution partnership with Remedy Simulation Group, an industry leader in healthcare simulation.
Remedy Simulation combine cutting-edge technology with hands-on production techniques, to develop high-quality, realistic physical anatomical models. Sim & Skills is proud to offer their products for sale in the United Kingdom & European Union.
Remedy's range of products are developed with medical industry experts to ensure they meet the education and training needs of nurses and medical professionals.
Remedy Simulation Group share our goal of providing easy-to-use anatomical practice models that can be used with a manikin or without, giving training providers greater flexibility for a better practice experience.
Whether you're looking for lifelike injection pads, catheterisation trainers or realistic moulage wound tattoos, Remedy products have the ideal solution for your training needs.
 Here are our Top 5 Remedy Simulation products
This comprehensive training kit enables students to learn in small groups or individually and is available in both light and dark skin tones.
This premium-quality, long-lasting nursing skills training kit, features injection pads, male and female catheterisation trainers, intravenous IV trainers, glucose test trainers and moulage wound care trainers.
This combination kit is one of our most popular sellers and offers excellent value for the purchase of both male and female catheterisation trainers.
Both of these catheterisation trainers are specifically designed to fit the Stand for Cathi & Willi Catheterisation Training Models (sold separately) and can be retrofitted to most Laerdal nursing manikins.
Remedy's injection training pad is designed for practising four types of needle injections:
Intramuscular (including Z-track)
Intradermal (when used with the removable epidermis layer)
Intravenous
Subcutaneous
Realistic puncture resistance mimics the feel of an actual injection.
The skin on the pad can be grasped for more realistic injection scenarios.
The pad offers drainage on the bottom so it can be used with fluid-filled syringes.
Lance is a simulated finger stick and blood glucose trainer.
It enables students and patients to have a life-like experience when learning to test blood sugar using a glucose meter and obtaining a reading.
Lance fits over the finger of a standardised patient or manikin.
Lance ships with a simulated blood kit. This includes 8 ml of simulated blood, a 5 ml syringe with a 20G industrial needle. The simulated blood will not register on actual blood glucose meters.
Users will be able to lance the fingertip, get a simulated blood sample and proceed in the simulation with either a simulated blood glucose machine (not included), or an instructor provided simulated blood glucose level.
This customised package was developed to coincide with the Military's trauma curriculum training exercises (26 scenarios).
Simulated wounds depicting:
explosions, gun shots, stabbings, chemical burns/spills, lacerations, puncture wounds, contusions, hematomas, abrasions, 1st, 2nd and 3rd-degree burns, compound fracture.
This kit can be custom made to better tailor your trauma classes.
Another goal our two companies share is the desire to bring medical simulation to the world of veterinary medicine, with the newly launched CHAMP Canine Venepuncture & Injection Trainer. A revolutionary product for a new breed of simulationists.
For more information check out the full range of Remedy Simulation Group products and contact us for a demo and quote.