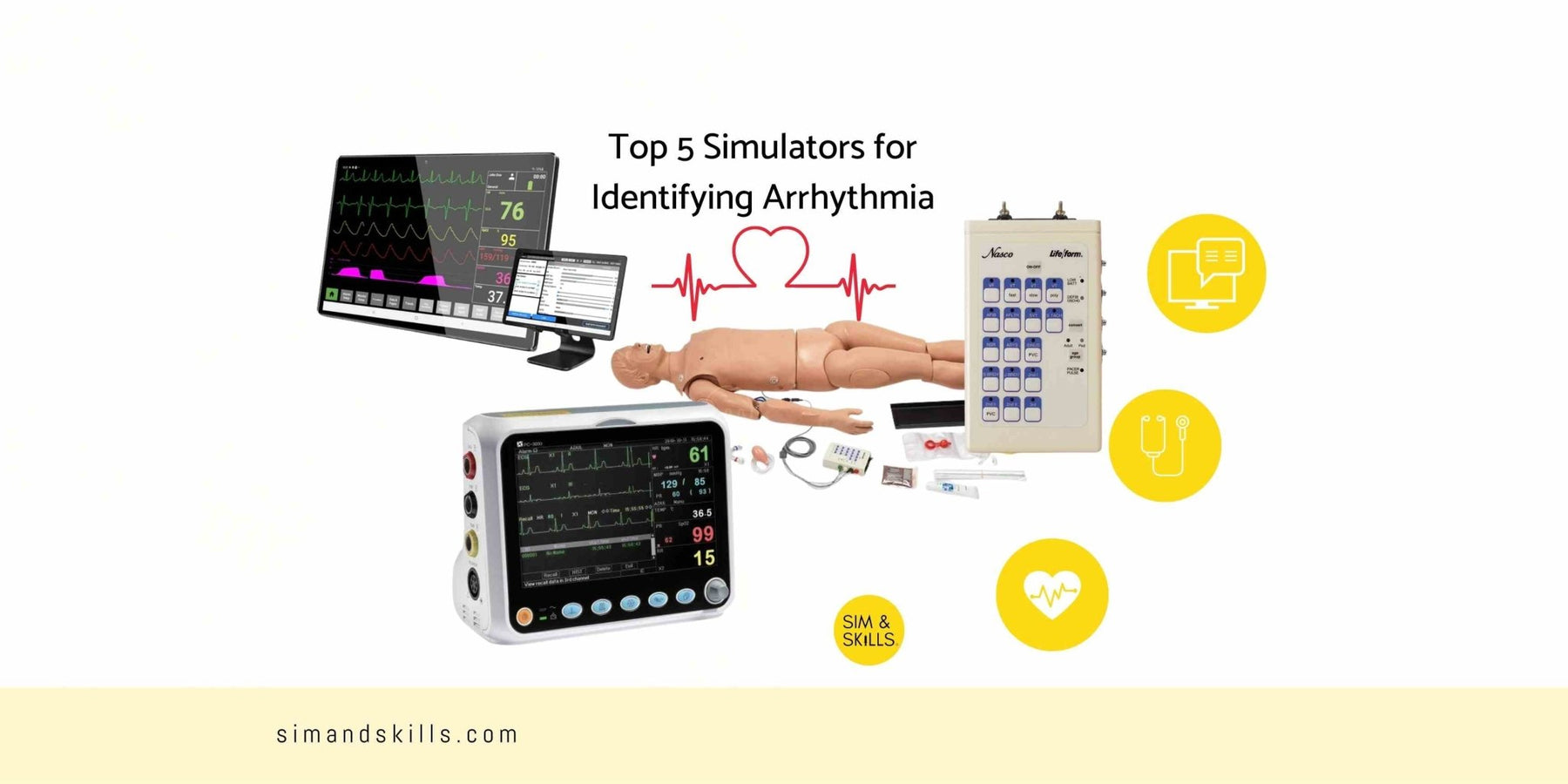 Our Top 5 Simulators for Identifying Arrhythmia
This week is World Heart Rhythm Week. Organised by Arrhythmia Alliance, the aim is to draw awareness to all arrhythmias, help improve diagnosis and treatment and increase the quality of life for all patients who are affected by arrhythmia.
What is an Arrhythmia?
An arrhythmia is an irregular heartbeat. There are different types of arrhythmia including,
Tachycardias- fast heart rhythms
Bradycardias- slow heart rhythms
Arrhythmias can occur in the Atria, the upper chambers of the heart, or in the ventricles, the lower chambers of the heart. They can occur at any age, with some barely noticeable, while more severe arrhythmias can lead to sudden cardiac arrest.
What are the symptoms of Arrhythmia?
The difficulty in identifying arrhythmia is some patients have no symptoms, whereas other patients can find their symptoms incredibly debilitating.
Common symptoms include:
Palpitations
Dizziness and fainting
Fatigue
How to diagnose Arrhythmia
To diagnose arrhythmia, an Electrocardiogram (ECG) can be used to record the timing of atrial and ventricular contractions.
Patient training monitors designed to simulate arrhythmia, are a crucial tool to help clinicians develop the skills needed to identify irregular heart rhythms.
There's a great range of training simulators available at Sim & Skills to help clinicians develop confidence in identifying and diagnosing an arrhythmia. Choose from manikins with ECG rhythm generators or simulated patient monitors that can be used with any manikin to create realistic training scenarios.
Here are our Top 5 simulators to help identify arrhythmia
SimVS Simulated Patient Monitor
The SimVS simulated patient monitor includes an instructor tablet that connects automatically to the students' tablets. Featuring over 200 cardiac and respiratory waveforms, trainers can select different scenarios and monitor students via two-way wireless communication.
SimVS can be used across multiple settings with live standardised patients or manikins.
The instructor tablet controls the physiological displays of 5 types of monitor interfaces:
Hospital Monitor
Defibrillator
Automated External Defibrillator (AED)
Mechanical Ventilator
Foetal Heart Rate Monitor (CTG)
Creative PC-3000 Patient monitor (Sp02, PR, Resp Rate, NIBP, ECG, Temp)
The Creative PC-3000 Multi-Parameter Monitor is an ideal way of tracking the condition of the patient due to the clear and visual display and multiple readings.
This patient monitor has easy readings and a long-lasting battery, making it suitable for constant use in a hospital and medical training environments.
All PC-3000 monitors are supplied with Adults SpO2 Sensor, Adult NIBP Cuff and Temperature Interface Cable.
The monitor includes optional 60 hour ECG waveform storage, and recall with arrhythmia / ST analysis. Featuring a choice of displays including waveforms or extra-large numerics.
Interactive ECG Simulator with Posts
A live defibrillation shock can be delivered through a manikin or simulator.
Practise operating your defibrillator/external pacer without a manikin. Connect defibrillator/external pacer to simulator using adapters. Built-in circuitry allows you to defibrillate and pace directly into the ECG simulator and observe ECG rhythms through the PADS connector convert feature.
Features 17 rhythms including Ventricular Tachycardia and Atrial Flutter.
Adult ALS Trainer with ECG Rhythm Generator
The features of this ALS Full-Body Trainer allow for ECG pattern recognition using the Interactive ECG rhythm generator. It is also suitable for practising defibrillation with full joule level discharge performed with patient care devices.
Built-in circuitry allows you to defibrillate and pace directly into the ECG simulator and observe ECG rhythms through the PADS connector convert feature. 
Select a waiting rhythm to run immediately after defib discharge.
Pacing can be performed with any manufacturer's defibrillator.
Life/form 15-Lead ECG Placement Trainer
A safe and simple way to teach up to 15-lead ECG electrode placement anatomically and provide visual feedback on the accuracy of electrode placement.
Students will learn the placement of the electrodes on the adult torso trainer using anatomical landmarks such as intercostal spaces, midclavicular line, anterior axillary line, midaxillary line, and scapula.
The trainer does not provide ECG output signals, but simulations of rhythms and hands-free defibrillation can be performed by adding any ECG arrhythmia simulator directly to your ECG monitor.